Introductory Workshop
The next Introductory Workshop will be held
in the autumn of 2020 in Charleston, SC

This workshop is free of charge to all accepted applicants.  Due to our funding by United States Department of Health and Human Services, National Institutes of Health, Eunice Kennedy Shriver National Institute of Child Health & Human Development under award number P2CHD086844, we must restrict admission to the workshops to those applicants who are affiliated with US-based institutions and who are eligible to receive NIH funding.
Introductory Workshop Goals
The participant will gain basic skills carrying out NM4R studies, such as ability to make basic TMS neurophysiology measurements (e.g., determine motor threshold).
Participants will become part of a community of NM4R researchers who are familiar with the physiological and technical background underlying the use of NM4R.
The participant's background in NM4R will extend beyond just brain stimulation or operant conditioning alone and that knowing the basics of both creates knowledge that is greater than the sum of the parts.
The participant will infuse the principles of rehabilitation into their neuromodulation experimental designs and specific aims for grant proposals.
Thus, the purpose of this level one workshop is to introduce a range of concepts of NM4R (brain stimulation and operant conditioning) and give skills in basic TMS and operant conditioning neurophysiology.
Individuals desiring certification will be tested by Dr. Mark George on TMS use. Successful individuals will receive a certificate for learning and demonstrating the basic skills.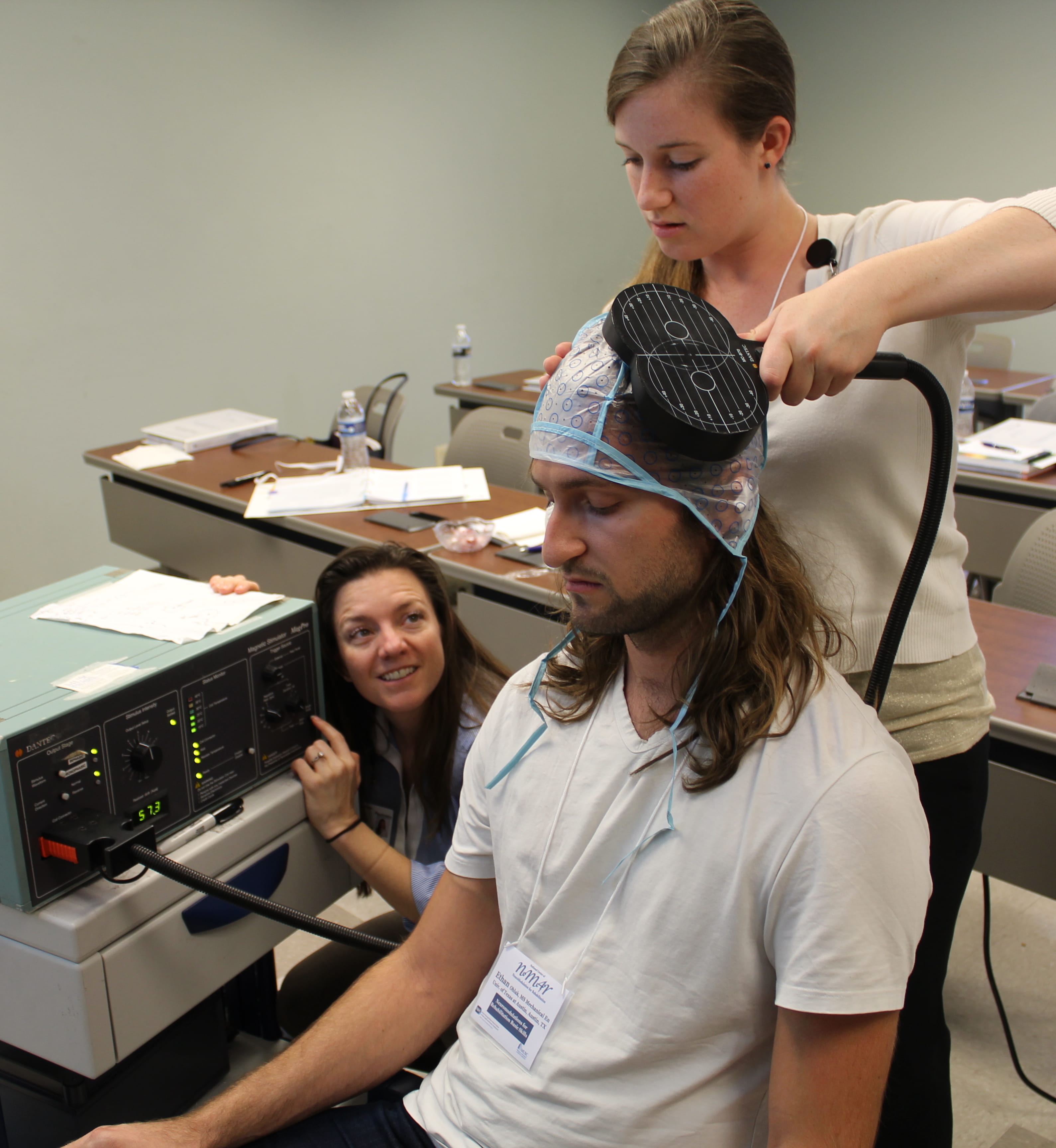 Introductory Workshop Agenda - Previous Session

Time

Title

 

Sunday, November 3, 2019

5:30 pm to 7:00 pm

Reception for participants, faculty, and staff with light refreshments

Atrium, College of Health Professions (CHP), A Building, 151-A Rutledge Avenue

 

Monday, November 4, 2019

8:00 am to 8:30 am

Registration & Breakfast

CHP, C Building, 77 President Street, Room 317

8:30 am to 9:00 am

Welcome & Historical Perspective of NM4R

 

9:00 am to 10:00 am

Physics of Brain Stimulation: a primer on TMS and tDCS

 

10:00 am to 10:15 am

Break

 

10:15 am to 11:30 am

Brain Stimulation as a probe: Evaluating Neurophysiology with TMS

 

11:30 am to 12:30 pm

Neuroplasticity as the Cornerstone of NM4R

 

12:30 pm to12:45 pm

Lunch Provided

 

12:45 pm to 1:45 pm

Working lunch: Safety Concerns with TMS and tDCS

 

1:45 pm to 2:00 pm

Demonstration of Proper Technique (motor threshold)

2:00 pm to 4:40 pm

Hands-on TMS and tDCS small group training
(35 min @ 4 stations + 5 min transition time)

 

4:40 pm to 5:00 pm

Break - transition to next lecture in CHP C building

 

5:00 pm to 5:45 pm

NM4R What is Rehabilitation?

 

 

Tuesday, November 5, 2019

8:00 am to 8:30 am

Announcements & Breakfast

8:30 am to 10:00 am

Brain Stimulation as an intervention: rTMS, TBS, TDCS

 

10:00 am to 10:15 am

Break

10:15 am to noon

Research Design and Translation of TMS to Patient Care

 

Noon to 1:30 pm

Networking Lunch

1:30 pm to 2:20 pm

Rehabilitation applications of tDCS

 

2:20 pm to 2:30 pm

Coffee Break

2:30 pm to 5:00 pm

Hands-on small group TMS training and optional certification testing

 

5:30 pm to 7:00 pm

Networking Social for participants, faculty, and staff to network and Keynote Speaker, TBA. Light refreshments will be served.

CHP A Atrium

 

 

Wednesday, November 6, 2019

8:00 am to 8:30 am

Announcements & Breakfast

8:30 am to 9:45 am

Pathophysiology of Common Chronic Neurologic Disorders That Are Amenable to NM4R

 

9:45 am to 10:00 am

Coffee Break

10:00 am to 11:30 am

Overview of upper extremity rehabilitation protocols

 

11:30 am to noon

Lunch

Noon to 1:00 pm

Keynote Address Controversies, Vulnerabilities and Possibilities: New Frontiers in Pediatric Neuromodulation Basic Science Bldg., Room# 302)

 

1:00 pm to 1:30 pm

Transition and Coffee Break

1:30 pm to 5:00 pm

Hands-on small-group TMS training and additional certification testing

 

 

Thursday, November 7, 2019

7:30 am to 9:15 am

Working Breakfast: Review of Spinal Circuits and Their Interaction with Brain Structures

 

9:15 am to 9:30 am

Break

9:30 am to 11:30

Overview of Activity-Dependent Plasticity and How Operant Conditioning Can Be Used to Modify Spinal Cord and Brain Circuits

 

11:30 to 1:00 pm

Networking Lunch

1:00 pm to 2:00 pm

Discussion

 

2:00 pm to 2:30 pm

Operant Conditioning of Spinal Reflexes: Method Overview

 

2:30 pm to 2:45 pm

Coffee Break

2:45 pm to 5:00 pm

Hands-on Spinal Reflex Testing and Operant Conditioning Training

 

 

Friday, November 8, 2019

8:00 am to 8:30 am

Announcements & Breakfast

8:30 am to 10:15 am

Panel Discussion on NM4R including Brain Stimulation and Operant Conditioning

 

 

10:15 am to 10:30 am

Coffee Break

10:30 am to noon

Translation of neuromodulation

 

 

Noon to 1:00 pm

Working lunch: Guiding the Targeted Neural Plasticity through Operant Conditioning

 

1:00 pm to 3:30 pm

Hands-on Spinal Reflex Testing and Operant Conditioning Training

 

3:30 pm to 3:45 pm

Coffee Break

3:45 pm to 5:00 pm

Course wrap-up, questions, and feedback session