Evoked Potential Operant Conditioning (EPOC) Core
The long-term goals of The Barbara S. Christie Evoked Potential Operant Conditioning (EPOC) laboratory are to understand the human central nervous system's plasticity (ability of the nervous system to change its neuron-to-neuron connections and thereby its function) as it relates to movement control, and to learn how to guide such plasticity to help restore useful movement function in people after central nervous system damage, including spinal cord injury, stroke, brain injury, and multiple sclerosis.
To achieve these goals, we measure spinal reflexes and muscle activity during functional movements using electromyography (EMG). We also use transcranial magnetic stimulation (a non-invasive brain stimulation method), 3-D motion analysis, and electroencephalography (EEG, measurement of brain-wave activity). Our current research focuses on investigating functional roles of spinal reflexes during dynamic movement and evaluating the plasticity of the nervous system associated with changing muscle evoked responses (e.g., spinal reflexes) through operant conditioning in people with chronic central nervous system damage.
Our ongoing research projects are revealing abnormal spinal reflex activity during walking in people with spasticity and how such abnormal activity may be reduced through evoked potential operant conditioning approaches. Our research studies have been published in highly regarded peer-reviewed neuroscience journals, such as the Journal of Neuroscience, the Neuroscientist, the Journal of Neurophysiology, and the Frontiers in Integrative Neuroscience.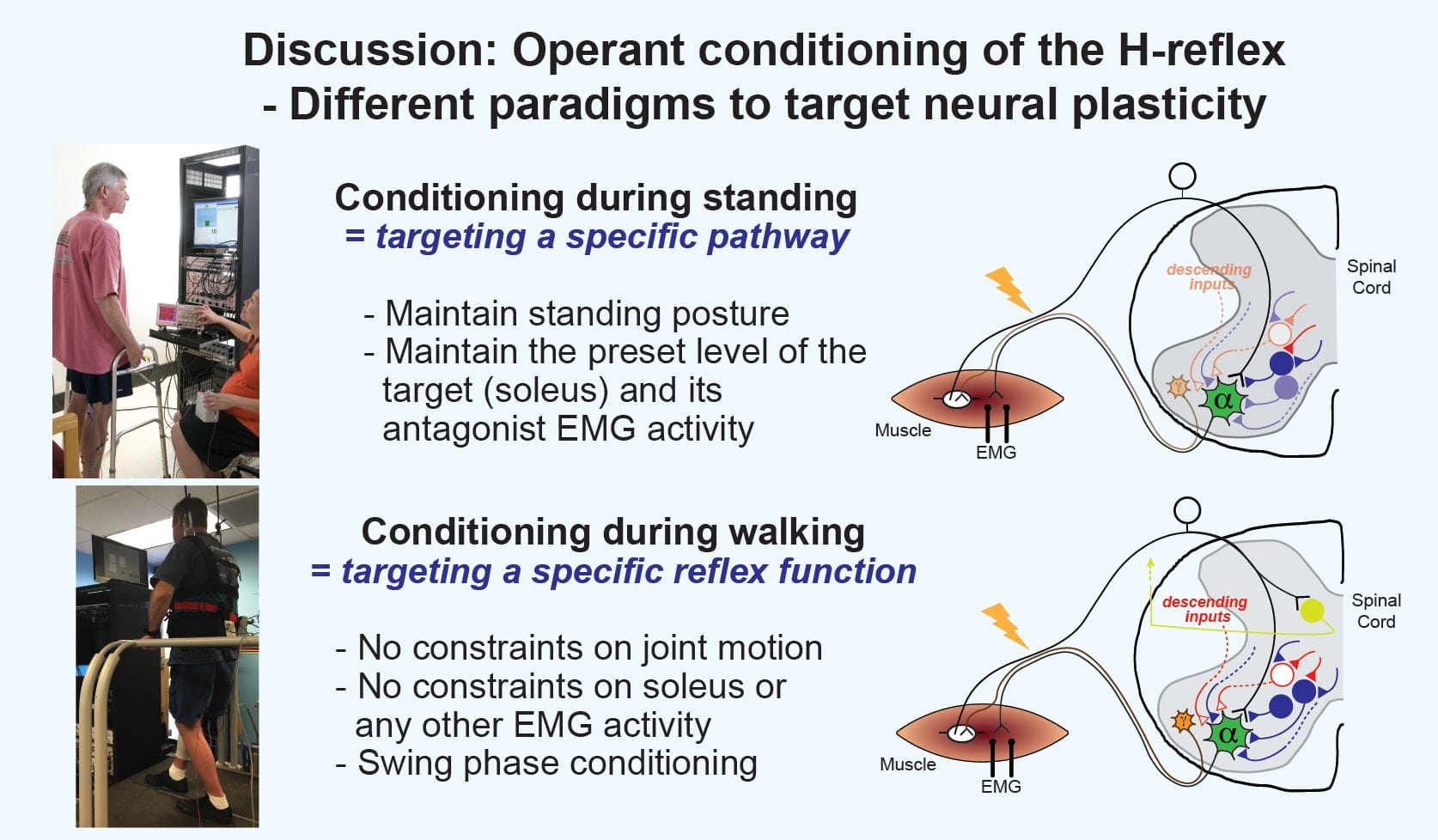 Recommended Literature
Pierrot-Deseilligny E, Burke D. The Circuitry of the Human Spinal Cord: Its Role in Motor Control and Movement Disorders. Cambridge, UK: Cambridge University Press, 2005.
Zehr PE. Considerations for use of the Hoffmann reflex in exercise studies. Eur J Appl Physiol 2002; 86:455-468.
Misiaszek JE. The H-reflex as a tool in neurophysiology: its limitations and uses in understanding nervous system function. Muscle Nerve 2003;28: 144-160.
Stein RB, Thompson AK. Muscle reflexes in motion: how, what and why? Exerc Sport Sci Rev 34: 145-153, 2006.
Chen Y, Chen XY, Jakeman LB, Chen L, Stokes BT, Wolpaw JR. Operant conditioning of H-reflex can correct a locomotor abnormality after spinal cord injury in rats. J Neurosci 26:12537-12543, 2006.
Wolpaw JR. What can the spinal cord teach us about learning and memory? Neuroscientist 16:532-549, 2010.
Thompson AK, Chen XY, Wolpaw JR. Acquisition of a simple motor skill: short-term adaptation plus long-term change in the human soleus H-reflex. J Neurosci 29: 5784-5792, 2009.
Thompson AK, Pomerantz F, Wolpaw JR. Operant conditioning of a spinal reflex can improve locomotion after spinal cord injury in humans. J Neurosci. 33:2365-2375, 2013. PMCID: PMC3579496.
Makihara Y, Segal RL, Wolpaw JR, Thompson AK. Operant conditioning of the soleus H-reflex does not induce long-term changes in the gastrocnemius H-reflexes and does not disturb normal locomotion in humans. J Neurophysiol 112:1439-46, 2014.
Thompson AK, Wolpaw JR. Operant conditioning of spinal reflexes: from basic science to clinical therapy. Front Integr Neurosci 8:25, 2014.
Thompson AK, Wolpaw JR. Restoring walking after SCI: operant conditioning of spinal reflexes can help. Neuroscientist 21:203-215, 2015.
Thompson AK, Wolpaw JR. Targeted neuroplasticity for rehabilitation. Prog Brain Res 218:157-172, 2015.