The QBAR Core provides training and consultation in performing state-of-the-art measurements of behavioral function (e.g., 3-D kinematics, kinetics, and electromyography) and rehabilitation interventions (locomotor, constraint-induced movement and intensive task-oriented upper extremity training) to support NM4R research. At present, the measurement and intervention framework available to clinicians is theoretically and practically insufficient to determine relevant deficits of a rehabilitation patient and prescribe efficacious interventions. Rehabilitation needs to be moved much closer to a model where: (a) the health of a person's motor control system would be assayed, (b) specific deficits would be identified, (c) specific treatments would be used to target the deficits, and (d) quantitative measures would provide assessment of the pre- and post-treatment states.
Leadership, Expertise & Staffing
Steven Kautz, Ph.D.
Dr. Kautz directs the QBAR Core. He is well-published and widely recognized as an expert in applying biomechanical and neurophysiological principles to understand the coordination of movement ind has published more than 100 peer-reviewed articles.
Michelle Woodbury, Ph.D., OTR/L
Dr. Woodbury serves as a Resource Mentor for Upper Extremity Rehabilitation. In addition to her scientific training and status as an independently VA-funded investigator in upper extremity stroke rehabilitation, she has 12 years' experience as a neuro-rehabilitation occupational therapist, including service as senior therapist and outpatient neurorehabilitation team leader for a large rehabilitation hospital. Dr. Woodbury also has scientific training in advanced measurement and statistical procedures, specifically item response theory and structural equation modeling. Her extensive clinical background and strong research training informs a cutting-edge link between measurement and design of optimal rehabilitation programs.
Mark Bowden, Ph.D., PT
Dr. Bowden serves as a Resource Mentor for Locomotor Rehabilitation. Dr. Bowden has been a PT for 22 years as a clinician, clinical trials coordinator, principal investigator, Director of the MUSC Neurologic Residency program, and Director for the Division of Physical Therapy (as of Jan 1, 2017). Dr. Bowden's research focus is on the recovery of walking after neurologic injury and is built on the understanding that walking rehabilitation is a multi-faceted and complex endeavor. Interventions include non-invasive brain stimulation, activity-based approaches including modification of permissive environments, and intensity of generalized rehabilitation. His extensive clinical background and strong research training informs a cutting-edge link between measurement and design of optimal rehabilitation experiences.
Chris Gregory, Ph.D., PT
Dr. Gregory serves as a Resource Mentor for Exercise Studies. His combined training in exercise physiology and physical therapy serves as a foundation for his research which is focused on the effects of exercise-based interventions on functional and health-related outcomes in individuals following neurological injury or disease. Over the years, studies have investigated the impact of aerobic and resistance training approaches, either alone or in combination with other therapeutic treatments, with the long-term goal of informing the design and delivery of optimal rehabilitation experiences.
Core Training & Consultation Opportunities
Quantitative Behavioral Assessment
NM4R investigators can benefit from quantitative measurement of behavior to better understand mechanisms of dysfunction and rehabilitation, as well as to serve as potential correlates of normal neurological function, structural and functional damage after injury or disease, activity-dependent plasticity during rehabilitation, structural and functional changes post-rehabilitation, and recovery of function. Core training and consultation opportunities related to quantitative behavioral assessment include:
Motion Capture and Electromyography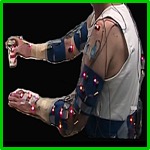 Movements after disease or injury are usually altered and performed differently. Investigators often must determine if an observed alteration is an impairment (deficit in motor control) that impedes successful task performance or a compensation (emergence of a new motor control strategy) that enables successful task performance. Human movement (kinesiologic) and electromyographic (EMG) analyses allow precise quantification of the kinematics (motion), kinetics (underlying forces and moments), and muscle activity (EMG) during movement. Marker sets have been developed to measure whole body kinematics during walking and standing (65 markers on 13 segments – head, trunk, pelvis and bilateral feet, shanks, thighs, upper arm, and lower arm) and upper extremity kinematics during reaching and grasping (44 markers on 9 segments – head, trunk, pelvis, bilateral upper arms, lower arm, and hands). Multiple markers on each segment locate position in three-dimensional space. Joint angles are calculated for each degree of freedom at the individual joints (ankle, knee, hip, shoulder, elbow, and wrist). Individual markers can be tracked in order to quantify spatial and temporal aspects of limb movement. For example, a marker at the proximal end of the hand segment is tracked to measure the reaching trajectory in order to calculate the amount of hand path curvature and movement segmentation.
Neuromechanical Analyses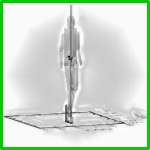 When motion capture reveals that movements are altered, understanding the underlying neuromechanical cause of a movement alteration illuminates the specific deficits or compensations that exist in an individual. For example, neuromechanical analyses can determine which changes in muscle coordination underlie an observed deviation, potentially offering a putative target for rehabilitation. The QBAR Core routinely performs multiple neuromechanical analyses using data collected via motion capture and EMG. Training and consultation can be provided for the computation of metrics such as: joint angles, intersegmental joint moments, endpoint trajectory (for reaching movements) velocity, hand path curvature, paretic propulsion, and EMG-based metrics based on cluster analysis and non-negative matrix factorization. The QBAR Core is also available to help with developing new measures to inform NM4R research.
Rehabilitation
NM4R researchers need to be able to provide reliable, effective, and standardized rehabilitation interventions in order to investigate the effects of neuromodulation on the experience-dependent nature of neural plasticity. Core personnel can assist with trainings and consultations to learn current state-of-the-art methods or to developing novel interventions. The Core provides training and consultation opportunities related to rehabilitation in:
Locomotor Rehabilitation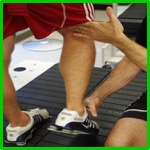 Core personnel have experience with a number of interventions to improve walking ability, including: training on a treadmill and over-ground with body-weight support assistance, dynamic balance training, strength/power training, and cardiovascular training. Additionally, QBAR personnel have developed novel approaches based on individualized assessments of the underlying contributors to impaired walking. These approaches emphasize the principles of neural plasticity and motor learning and may combine multiple therapeutic interventions to optimize recovery. QBAR will consult with and train individual investigators to determine the ideal intervention(s) to facilitate exploration of novel neuromodulation therapies.
Upper Extremity Rehabilitation
Skilled therapists will provide evidence-based, intensive task-oriented UE rehabilitation programs such as constraint induced movement therapy, gravity-minimized Armeo®-assisted therapy or conventional sensorimotor-based therapy programs (e.g., Bobath neuro-developmental treatment). In addition, QBAR has developed novel, cutting-edge UE task-oriented rehabilitation programs such as high-intensity, impairment-targeted rehabilitation and customized virtual reality-assisted therapy for patients with more severe motor impairment. QBAR will consult with investigators to develop the ideal UE therapy programs that will translate and integrate emerging neuroscientific principles of neuroplasticity and implement them for the investigators.
Exercise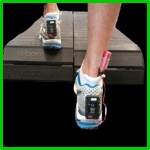 Core personnel can provide consultation and training in exercise principles and in a number of exercise protocols like strength/power training and cardiovascular training. Core investigators can also provide consultation and training in exercise physiology measurements such as metabolic energy expenditure. QBAR will consult with and train individual investigators to determine the ideal exercise intervention(s) to facilitate exploration of novel neuromodulation therapies.