Administrative Staff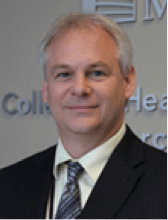 Steve Kautz, Ph.D., Core Director
kautz@musc.edu
843-792-3867
Dr. Kautz designed and equipped the individual laboratories that comprise the QBAR core shortly after his recruitment to MUSC in 2010. Dr. Kautz designed and directed a similarly organized laboratory at the VA Brain Rehabilitation Research Center in Gainesville, FL for 6 years and has a history of funding with direct relevance to behavioral assessment and rehabilitation. Over the past 12 years, he has been PI (or Co-PI) of 16 different awards in stroke rehabilitation totaling more than $7 million, relatively evenly split between NIH and the VA. He is well-published and widely recognized as an expert in applying biomechanical and neurophysiological principles to understand the coordination of movement in persons with post-stroke hemiparesis. His research combines theoretical and experimental studies of the control of movement, functional biomechanics, and clinical neurorehabilitation with the goal of improving function in persons with neurological disorders. He has nearly 20 years of experience in measuring motor performance related to neuromuscular control (nearly all in persons after stroke or healthy control subjects) and has published more than 70 peer-reviewed articles.
Dr. Kautz also mentors faculty through his role as director of QBAR. He has substantial experience in mentoring junior faculty having served as primary mentor for 5 Assistant Professors who were awarded VACareer Development Awards (mentoring all in quantitative behavioral analyses in stroke rehabilitation research). In total, he has served as a mentor on 17 mentored grants for junior faculty, either NIH K awards or VA Career Development Awards, with a majority of the mentees (12) pursuing stroke rehabilitation research.



LuAnne Harley, Grants Administrator
harleylu@musc.edu
843-792-8261
Ms. Harley is responsible for business management and administration of the Administrative Core of SRRC. Specifically, she is responsible for post-award financial management, including handling budgetary/personnel allocations, monitoring spending, and preparing financial reports. She is also responsible for ensuring that all activities are in compliance with all Federal, State, Institutional and award-specific regulations and requirements.


Amy Ellis, Administrative Assistant
ellis@musc.edu
843-792-1364
Ms. Ellis provides Administrative Support for Dr. Kautz and the Administrative team for activities related to the management of the COBRE. She handles scheduling, coordination, and follow-up for all meetings. She is responsible for organizing all COBRE-related travel arrangements and reimbursements in compliance with Federal, State and Institutional travel policies and allowances.