MUSC Physical Therapy Orthopedic Residency
The MUSC Orthopedic Physical Therapy Residency program is a joint collaboration between the Division of Physical Therapy at MUSC and our clinical partners.
Benefits of a Residency Program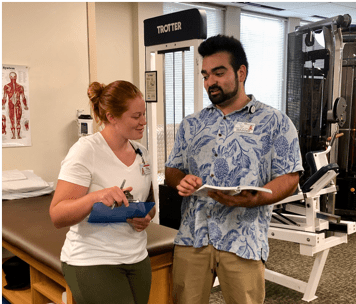 Participate in an accredited, post-professional residency for one year (beginning in January) to facilitate and accelerate the attainment of advanced clinical abilities in orthopedic physical therapy. Focus on patient-centered, evidence-based practice with independent didactic study, 1:1 mentoring with board-certified Orthopedic Clinical Specialists, hands-on and web-based classes. A residency promotes lifelong learning among the residency graduates through preparation to assume a leadership role in the treatment of patients as well as educating and training other health care providers.
Advance your practice through networking opportunities in addition to teaching and learning with peers that share similar goals and interests. Residency graduates will be prepared and qualified to sit for the Orthopedic Physical Therapy Specialist Certification (OCS) Examination.
Learn more about: