Accreditation
The Master of Health Administration program is accredited by the Commission on Accreditation of Healthcare Management Education (CAHME).

CAHME is the only organization recognized to grant accreditation to individual academic programs offering a professional master's degree in healthcare management education by the Council on Higher Education Accreditation. CAHME Accreditation is the benchmark for students and employers alike that ensure that students are well prepared to lead in healthcare management.

The MHA program is recognized as a member of the CAHME Mentorship Circle (CMC). The designation is awarded to programs that demonstrate a commitment to advancing quality health care management education. To earn the recognition, programs with the CMC designation may conduct mentorship activities with other programs in candidacy status, host activities that benefit the field of healthcare management education, or have senior faculty members that mentor junior faculty at other programs.
Measures of Student Success 
Percent of residential Master in Health Administration students who graduate on time:
2016-2017: 100% 
2017-2018: 100%
Percent of executive Master in Health Administration students who graduate on time:
2015-2016: 96%
Percent of residential Master in Health Administration students employed in health care within three months of graduation:
2014-2015: 89% 
2015-2016: 94%
MHA Alumni By State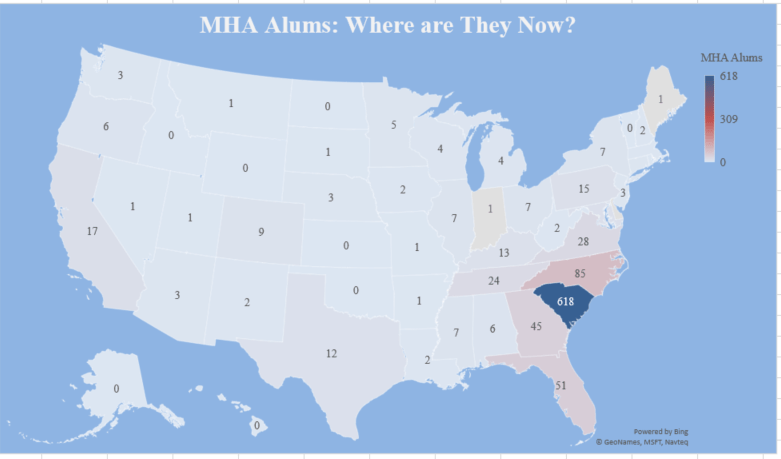 Program Goals
Our curriculum prepares graduates to have a broad understanding of the health care system and factors impacting its various components. We train our students to be able to apply concepts and managerial skills in human resources, strategic planning, decision-making, finance, marketing, and information systems. We are proud that alumni are able to take an integrated approach to managing health care professionals and facility operations.
Student Learning Competencies
The MHA program has adopted a competency model (PDF) to guide curriculum development. The model was developed with input from alumni, faculty, and health administration practitioners.
Interpersonal Communication: Build collaborative relationships and negotiation skills.
Writing Skills: Prepare business communications.
Presentation Skills: Demonstrate effective oral communication and presentation skills.
Leading and Managing Others: Hold self and others accountable for organizational goal attainment.
Change Management: Promote and manage change.
Ability for Honest Self-assessment: Demonstrate reflection through self-assessment.
Systems Thinking: Be able to assess the potential impacts and consequences of decisions in a broad variety of situations.
Problem-solving and Decision-making: Apply evidence-based decision making techniques to Health care questions.
Personal and Professional Ethics: Adhere to ethical business principles; exhibit ethical behaviors; responding in timely manner and fulfilling one's commitments.
Professional and Community Contribution: Participate in community service; balance professional and personal pursuits.
Working in Teams: Create, participate in, and lead teams, including inter-professionalism.
Health Care Issues and Trends: Understand circumstances causing major changes and reform in U.S. health care delivery.
Health Care Legal Principles: Discuss and critically analyze health-related legal principles including standards, regulations, and risk management.
Health Policy: Articulate the impact of select health policies on the delivery of health services.
Population Health and Status Assessment: Understand and explain the major factors in health status.
Financial Management: Ability to compile and analyze financial data; develop capital, operating, and cash flow budgets; analyze investment data; pro forma development.
Human Resources: Apply methods and techniques related to the management of health care organization employees and professional staff.
Organizational Dynamics and Governance: Understand the roles, responsibilities, structures, and influence governing bodies hold in health care organizations.
Strategic Planning: Ability to perform environmental analysis and develop strategic alternatives; discern competitive strategy; formulate business strategy based on evidence.
Marketing: Analysis and assessment of markets, market segmentation, strategy, change, and innovation.
Information Management/ Understanding and Using Technology Skills: Apply techniques and methods to plan, design, implement, and assess information flow and communication.
Quality Improvement/ Performance Improvement: Identify relevant problems and apply concepts of process improvement and patient safety.
Quantitative Skills: Analyze data and interpret quantitative information.
Planning and Managing Projects: Able to design, plan, implement and assess projects and develop appropriate time lines related to performance, structure, and outcomes of health services.
Economic Analysis and Application: Analysis and application of economic theory and concepts to business decisions
Teaching Methods
Courses use a variety of teaching methods and tools. These include:
Cases
Real projects for organizations
Service-learning projects
Interactive learning through discussion with guest lecturers and speakers
Participative learning
Lecture
Presentations
Case competitions
Collaborating with peers and external organizations
Simulation
Master of Health Administration Grading Policy
Please see our MHA Program Handbook (PDF).