Clinical Education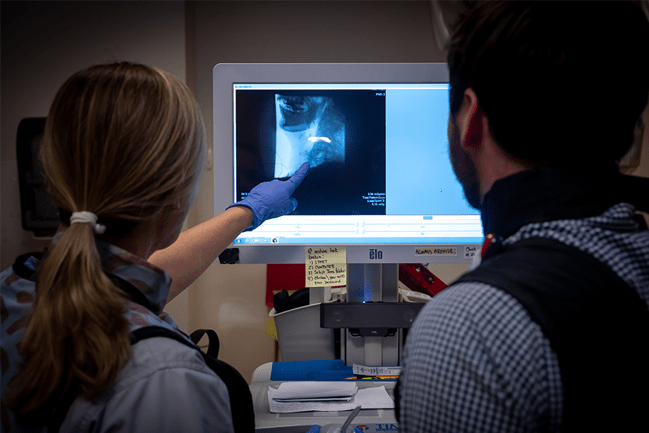 About the Experience
The clinical education of future speech-language pathologists (SLPs) is at the heart of our program with active clinical experiences each semester. During the first semester, students are introduced to MUSC hospitals and clinics, providing orientation, observation prior to hands-on experiences, and early supervised clinical experiences as appropriate.

The large variety of patients cared for at MUSC hospitals and clinics gives students the chance to be immersed in all aspects of patient care. Each student's participation in clinical activities is carefully coordinated with the program's clinical coordinator and the supervising clinician. Each clinical experience is paired with didactic coursework and clinical skills check-offs. The didactic coursework allows program faculty to define the optimal clinical learning experiences for each student depending on their interests and progression with knowledge and skills.

In addition to clinical internships/externships, case studies and clinical skills check-offs are a focus of our interactive classroom. The clinical skills check-offs (e.g., accurately conducting a cranial nerve exam) ensure that students are engaged in practicing and refining their clinical skills throughout the entire curriculum, not just in a clinical setting. Clinical skills check-offs are commonly used in the education of other clinicians at MUSC (medical students, physical therapy, etc.), and we are excited to incorporate them into SLP education.
Sample Clinical Rotations
Hours listed below signify clock hours of supervised clinical experiences expected in each semester. Total minimum hours in direct supervised clinical experiences is 385. 
Semester 1 (≈ 50 hrs., 25 observation)
Orientation, Observation & Practicum at MUSC Health
Semester 2 (≈ 40 hrs.)
Adult inpatient or outpatient (MUSC Health or local facility)
Semester 3 (≈ 50 hrs.)
Adult inpatient or outpatient (MUSC Health or local facility)
Semester 4 (≈ 60 hrs.)
Early Intervention / School / Pediatric inpatient/outpatient (MUSC Health)
Semester 5 (≈ 60 hrs.)
Student interest dependent (Adult / pediatric, inpatient / outpatient / school)
Semester 6 (≈ 150 hrs.)
Full-time externship (dependent on student interest)